A high FIVE for Abs!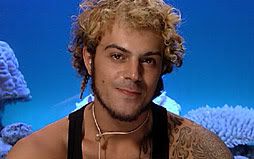 Just when the ladies of Love Island were starting to feel the need for a bit more boy action, we whipped out our Abs for them to run their hands over!
Ahem, in other words people, Abs is in the house, and his entrance has been a welcome surprise among the Resortees.


"I immediately thought of B," Kelle admitted in the Beach Hut today. "Not in any romantic way, but just someone to hang out with and take her mind off Leo.
"Instantly they did get on. He's been really cool."

And Abs is not adverse to a bit of B himself, as we know from our chat from him before he hit the Resort.

"Bianca is a lovely girl," he said politely today, before blushing and hastily moving onto the other celebs.

"Shane basically is a no-go. I'm not going to even try and sort something out with him.

"He's got his own head in his own place and he's settled. He's not going to play any kind of love match games."

But surely there's potential for a bit of matchmaking in there? We can think of two twins who'd be game for a giggle.

"Eve and Brendan," Abs admits. "Maybe me and Bianca are going to try and hook them up."

But what about you Abs? We know you like B, but what about the other ladies on Love Island?

Is there a room for something cosy with our Kelle perhaps?

"Kelle is very beautiful," Abs concedes. "Personally I like my girls a bit nastier but Kelle seems very nice."

Fair enough love, keep up the good work!

Source: ITV - Official Site
Labels: love island