Five: We are back!
As you all may have noticed, a sudden change has happened in the world of pop.... FIVE ARE BACK! On the 27th of September they annouced that they are coming back to the music scene, but they won't be doing anymore slam dunking of any funk or getting the feeling. "There'll be no arms up in the air signs. I'm 30 now so we'll have to jog along instead of dancing," J told the Daily Star. But he insisted Five would still be a pop group.
"People behave like you can do any music apart from pop until you die. Pop is for 19-year-olds. Rubbish," he said. "We're seasoned veterans. We know how it works and know we can write a great new album. We're still a pop band." Ritchie told MTV that there maybe be a little bit of keepin' on movin' and we all know that song gave them their first number one in the UK. You may have noticed that they are no longer 5 of them, but that they are now a foursome. Sean Conlon is missing, because he is working on solo material and is planning on releasing his album in a few months (news about that will be posted here aswell, you can check out his
myspace site) So why are they still called Five and not Four? Scott said: "Five's a brand not a number."

The group, who sold 20 million records worldwide between 1997 and 2001, are working on a new self-funded album. The record is a collaboration with Robbie Williams' former song writing partner Guy Chambers. If everything goes as planned, they will be thinking about doing a tour next year.

The guys currently do not have a record label, they are not in it for the money, they just want to make music and they are self-financing their comeback. The band revealed that the seeds of their comeback bid were sown over a game of pool some months ago.

You can watch and hear various clips of Five coming back at the Five Download Site.

A lot has changed, but their humor will stay the same. J told the Mirror "If we flop, we'll move to Goa." Well I personally don't think that's necassary. We fans will do anything to get you back at the top. We are glad you are back, the music scene has been empty without you.

The foursome also revealed what they have been up to during their wilderness years, with 'J' living a tranquil life to "[get] my head sorted out from all the madness". Conversely, 'Abs', who recently appeared on ITV's Love Island, devoted his time to "quite a lot of parties and late nights."
Neville, who spent the intervening years writing and travelling, admitted he became a "borderline alcoholic at times" but was now fully fit. Married Robinson proudly said he's "been busy making babies."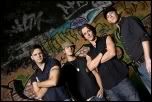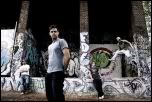 For more pictures check out
WorldOfFive
,
Five Fansite
and
Richard-Breen.co.u

k
Labels: five