Exclusive: Abs' Jibber-Jabber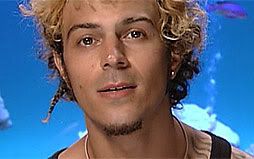 He came into the resort promising to play Cupid, and by his own admission "failed miserably". But Abs certainly made an impression on our lovelorn celebrities. And there was one girl in particular who made an impression on him!

"Colleen," Abs blabbed, as we caught up with him after he left. "There were just a few moments when eyes were being thrown across the table, and certain things were happening.

"My spot at the table was always bottom right for some reason, and then last night, for the first time, she sat right there, and was complimenting me on my braiding and had these big black boots and she was rocking.

"She wore them for me the day I left and she gave me a cap. I was like, sweet."

But will the rampant rapper be meeting up with the ditzy DJ to make sweet music? Possibly not. But there is one girl who Abs will be in touch with – his old pal Sophie.

"Because she knew me from the past she felt like she could talk to me," Abs gabbed. "I found out Sophie's game plan last night when I was sitting with her."

But while Abs wouldn't reveal what that game plan was, he was happy to give sage advice to the mouthy model.

"I asked her about how she felt about people on the Island, who she was feeling, obviously the whole Shane thing.

"I was like, 'Listen man, maybe you just need to flip the record a little bit and start from the top.' Just move forward and look forward do something else man, change the record.

"She was like, 'you know what, I do like Chris's hair!' She was like, 'That's what it was like when I first met him.'"
Interesting! Maybe our Abs isn't as useless a cupid as he might think.

Source: ITV - Official Site


Labels: love island